World Series of Mahjong: Tokyo Qualifier

It was a weekend of World Series of Mahjong qualifiers. Saturday saw a group hungry players battling it out for 4 open spots at this year's WSOM in Macau, August 20-22.

It was an interesting group with a wide range of players: pros, people running mahjong parlors, and some of their players.

To keep things simple it was a race to the most points one could accumulate in 4 games. Most of the players are new to the WSOM rules so the rules used in the qualifier were simply the Reach rules with which everyone in Japan is already familiar.




After the first game, everyone took a break to enjoy a few platters of goodies, compliments of the good people at the World Series of Mahjong.




The tournament was absolutely dominated by Makoto Sawazaki, a pro player from the Japan Professional Mahjong League. He won 3 of 4 games in convincing fashion and swiped first prize in the tournament:entry, airfare, and hotel accommodations to the main event at 2010 WSOM.




Second place was taken by Katsuhiko Kamata, against whom I played in the final game. He put in a strong performance too despite the best efforts of the other three of us. He was undeterred by our many reaches and won almost all of the hands that game. As if that were not enough, he has interestingly enough also qualified for the Reach event at WSOM through one of the of the Reachmahjong.com qualifiers. With such strong results so far, we expect a strong performance from this young player in Macau.




3rd place was taken by Naoki Tomisawa a player new to our tournaments but looking forward to making his mark at WSOM this year.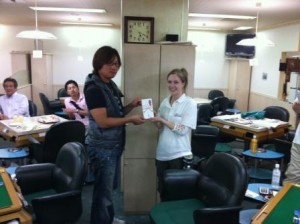 And finally, Takashi Ogura swept into 4th place with a big finish in the 4th game. He not only overcame the deficit accumulated in the first 3 games, but also the 10 point penalty he incurred by missing the start time by a few minutes. Currently at the top of the Japan Professional Mahjong Association we expect big results from him at the tournament this year also.




So there you have them, the four players chosen by this year's World Series of Mahjong Japan qualifer. We expect to be reporting back to you with huge results from the Japan players at this year's WSOM.