Riichi Mahjong Open, Baden 2011

We used to be a trio here at ReachMahjong.com. Garthe, Gemma and myself (in alphabetical order) work on the site and play in the mahjong field. However we did not hear that Gemma won the Baden Open over the weekend until today, and this we found out on our own. My first instinct was to completely disown Gem. Then I realized that while Garthe and I are stinking up our leagues in Japan, Gem is the only one actually winning things… So I put my head down and got the info of our 2-time champion, Gemma Collinge. We love you Gem! Congratulations! Read on for the report from the tournament organizer, Alexander Doppelhofer.

By Alexander Doppelhofer
On February 12th, 2011 Alexander Doppelhofer organized the first-ever major Riichi tournament in Baden, Austria. There were 24 participants from 8 countries (Germany-2, France-2, Denmark-1, Great Britain-1, Hungary-1, Japan-1, Slovakia-6, Austria-10). The event was held at the restaurant Schwanke.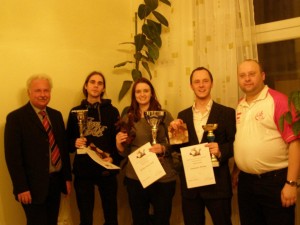 After 4 rounds turned out that the Austrians had been defeated by the strong competition from abroad. The best female player from Austria, Birgitt Rupp, finished in 10th place and the best male player from Austria, the organizer Alexander Doppelhofer, finished in 12th place.

Despite the many men from abroad Gemma Collinge prevailed and won her second tournament (her first being in HANNOVER in 2009). Michal Marko of Slovakia finished behind Gemma in second place and Andreas Pistek, playing from Munich, finished in third place.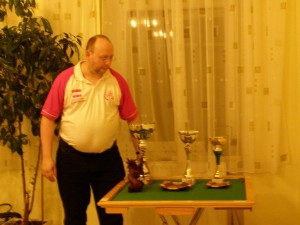 The trophies were donated by the Mayor of Baden and presented. In the first place, there was a dragon made of wood. The second and third place got a sun. Each participant received a certificate, so he has a memory of the tournament and maybe come back next year.

The Baden Open was worth 1 MERS Point for the EMA RCR Ranking.