I had the day off and chose to play on Ron2 (ron2.jp) from home. Ever since Garthe and I got our pro IDs last year I haven't had much time to play online, but this year I'm planning to make that time, so I logged in for a few games.

My favorite mode on Ron2 is the East-only Reach Battle (you can see the logo on the top-right of the image). The East-only battle is a great way to get a quick mahjong fix with a gambling flavor to it. Only you won't lose any money. Which, if you're anything like me, is good for people that are easily distracted while playing at home.

The Reach Battle mode has red 5's, but I wouldn't have known it for my first 3 hands. When I finally got one I couldn't get to Ready (tempai). My style of play doesn't call for a lot of called tiles and my hands weren't very good for calling on discards either, so I spent the first 6 hands pretty much folding. Then I discarded another player's winner for 3200 points. I tried to reach my turn at dealer, but I couldn't get any traction.

Going into the final hand I had 18,100pts, 1st place had 38,900 points.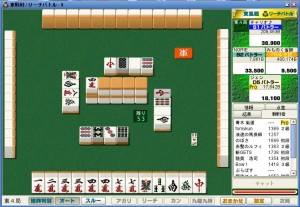 I ended up with this choice:

)

2nd place still had over 30,000. A safe route would probably be the 7,700 point Half-flush with 2 dora and a chance at one more. I chose to go for gold though, with a number of tiles still able to help me. I didn't have a lot of draws left and so I didn't have my hopes up, but a 12000 or 16000 point hand seemed like the only thing that could really change the score, so I went for it.

It only took 2 draws for the 1st place winner to win from the 2nd place player and in the end nothing changed. I'm happy with this decision in this situation. If I still had a turn at dealer or it wasn't the last hand then I certainly would have taken the Ready hand.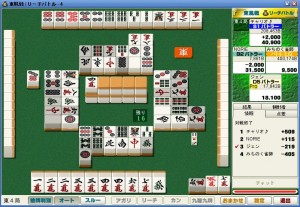 I didn't have time for another game right away because I had to run some errands, but you can find me playing online under the name ジェン. You can also watch my games on the Ron2 client if you have a full ID. Make sure to say hi if you catch me in the chat room or watching other pro's too!