Oranda Sai-Kou Tournament Day One

Day one of the Oranda Sai-Kou tournament in Utrecht, Netherlands. I am tired. And for no good reason either. I got plenty of rest on the train here. (I thought I'd get my excuses in a little early!)

For those who checked my twitter, you'll already know that my day was a bit of a mixed bag. Started off badly, recovered a little, lost it again, gained it back big time, and then cruised until the end of the day.

This is what makes two-day tournaments so good. I still have a fighting chance to improve myself tomorrow, or prove that any thing I have ever gotten has been pure fluke. Only tomorrow knows!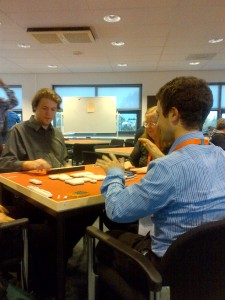 Tom (Wortex) who is also representing for RM.com is the one people should really be watching for. When he's got his game on, he's just sooo good and this weekend seems to be one of those times. I'm more excited to see how he plays tomorrow than I am for my own play.

Organization so far has been great. The only grumble I've heard so far had been about the short break for lunch (30 mins) but if you want to fit five hands in a day, that is sort of inevitable without us all wishing very hard for another hour in our days.




I'll bring you another report tomorrow! Wish me some luck, but Tom the most luck!