Note to self #too-many-to-count: consistency!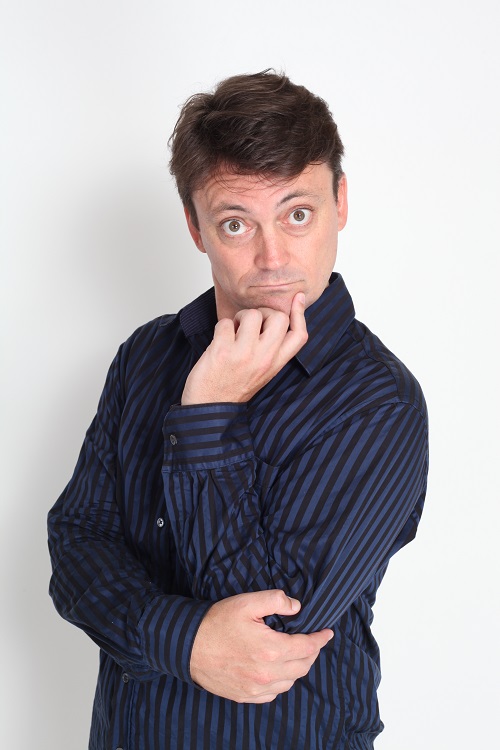 I was watching the Ron2 Autumn Cup the other day (hey I won that before, why wasn't I invited?! Oh yeah, rotten ratings lately).
The first semifinal had Moriyama and Ara matched up against 2 Ronron guests and there was a hand early on that hand me reflecting on the legend that is our Supreme Leader, Atomic Reach Moriyama.  Ara had ponned a couple things and was waiting for a winner with a 2345567 shape in pinzu. It was readily apparent that he also had a half flush for mangan as dealer so one would want to be careful throwing pinzu. What should befall Moriyama but that he gets to Suanko tenpai, tanki machi!! He chose to wait on East the only one of which anyone could see (including us in tv world) was in Ara's discards! Epic slap down of someone in the making!
Katsumata was breathlessly relating how this was obviously a hand neither player would be able to get away from so SOMEbody was soon going down in flames. Moriyama drew and discarded like every pinzu except 2-5-8 and after a little deliberation chose to throw them anyway. He actually had three of the 6p in his hand so perhaps that wall helped him feel safer with a few of them even though they were still obviously risky. Because he was so obviously on the attack, it also put the other players on alert so that when one of them did draw one of the Easts, he rightly chose not to push it. On Moriyama's second to last draw he finally drew 2p and Katsumata was already mourning his loss when he instead chose to discard East! Fine play! What made it even more boss was that on his final draw he drew 5p and now if he wanted to finish tenpai, he'd have to throw 2 or 5, both Ara's winner. Again he defied Katsumata's expectations and broke up his Suanko tenpai to discard safely and finish the hand no-ten (not tenpai).
Hero fold! Legend!
Except, well, was it?
After throwing East because he thought 2p was dangerous enough, wouldn't it also seem like 5p was at least as dangerous? Sure you want to open up your Suanko tanki tenpai and let everyone know what a bullet they narrowly dodged, but is possibly getting 1500 worth the risk or throwing 12000? Having started to play safe with the 2p it just wouldn't make sense to throw it or 5p next turn.
Consistency.
It's true that you don't want to always do the same things in the same situations as that is going to lead to players being able to read you like a book. But there are situations where it's better to think about whether your moves are consistent with previous moves. This was a somewhat extreme example but there are much more commonly occurring situations too. The one that most people are guilty of (including me) is waiting to reach at tenpai and then reaching on a later draw whether or not anything has changed. What IS the logic there? If we chose not to reach right away we probably had SOME reason like it's a cheap hand or the wait could be better. But now suddenly we're just gonna tsumogiri reach because…why? This cheap hand is suddenly worth more? The crappy wait is suddenly gold? How else can we win? It doesn't make sense.
It's frustrating to realize even in the moment too that you've made a mistake because it's often unfixable for that hand. You pretty much have to accept defeat for that moment. However, the experience doesn't have to be entirely wasted. We need to file those moments away in our heads so that when the time comes again to make that difficult decision, we have that experience bank to draw on.
Going back to Moriyama's hand, I want to re-emphasize what I think is the important point about consistency. The point is not that we should always just give up at 2p. There will of course be times when Ara isn't waiting for the 2-5-8 and giving up that great hand to play safe will be a miss. We, however, want to think of our plays in the vacuum of space where every hand is a Schroedingers cat box of nearly limitless possibilities until the hand is opened up for us to see. Sometimes it's 2-5-8p and sometimes it's totally, like, anything else. The point to remember is that he held 2p because he thought it was too risky. When he draws 5p next, both have to be as dangerous a tile as there could be. It would not make sense to have played safer drawing 2p and then play dangerous with it or 5p anyway. Conversely, if he had thrown the 2p and gotten away with it (albeit in a different cat box) it would make less sense to then play safe on the following 5p. If he went for it with 2p, he should probably continue with 5p too.
Thus are my thoughts heading into our first month of the second half of mahjong year. Not only have I moved up to D1, but it also appears I've reached 5 dan ranking!

And I'll get a very expensive scroll-that I'd rather not pay for-to prove it! Hoping the D-leaguers will find that quite intimidating. Look for a report on that dominance in the coming week…