It's finally here! The M-League Final Series starts today!
I had been trying to think about how to make it a battle between all the teams involved but I've already decided, Sakura Knights have it in the bag.
Indeed after a strong start to the season, they ceded first place to SegaSammy Phoenix, who were powered by strong individual performances from Kondo and Uotani to take the top spot. Actually they ceded 2nd and 3rd places too so they began on the border, but they came out swinging from day one of the semifinals.
They really set the tone by winning both the games on the first day and really never looked back from there. And they've mixed it up while making the winning look comparatively easy. Late in the semifinals first game Uchikawa set up the Shiratori (first place at the time) to throw to his very well disguised seven pairs hand.
When Shiratori had no obviously safe tiles he threw his only letter tile, the second East and not only was it Ucchi's winning tile but it was also ura Dora.
Sawazaki also played an interesting game in the second hanchan of the day, sometimes seeming to be folding while still going for it, totally folding while appearing on the attack, and then at just the right moment, playing totally normally to win mangan from the current top scorer, Setokuma. He got to tenpai early with two dora, reached with two pairs wait and when Setokuma got to one away from ready with a loose 2p, he pushed. Sawazaki hit ura Dora and mangan put him firmly in first place.
While Kadokawa does have a good lead at the moment, with 6 days to go, it's still really anybody's game.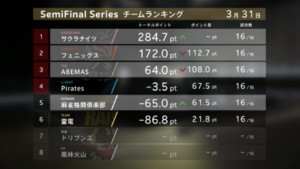 Seriously the finals start in in matter of minutes so it is well past time to get this up and you guys primed for the excitement of the finals. Hopefully I'll be able to post daily as the Knights sweep the series to win with the first ever 1000 points!