M-League Final Series! Some day…
It's that time of year again. Wait, actually it's like no other time of year ever has been, at least for most of us in our lifetimes. We hope you're all in good health and are in a situation where you can engage with a topic as frivolous as Mahjong!
Some of you may have noticed my gaff last week when I breathlessly announced the beginning of M-League's final series and even made Jenn and Gemma tweet about it. Then on a whim I reread the news posting about its postponement to see I had been a bit too breathless, it had been postponed FROM last week, not to it, with no rescheduling in sight.
Now that there's no pesky olympics to pretend it was still possible to host, the country has really gotten into the whole social distancing thing. There will be no fondling of disease ridden pachinko balls or video game consoles! Rather we are breathing around each other at the park and on suddenly much more crowded jogging paths like next to our house on the river.
Having checked out of M-League action a little early in the season, I thought I might look back on how it went. Let's look at a few games that I think sort of sum up how things went.
In the first half of the season it looked a little like it was going to be all about newcomers Sakura Knights and especially their veteran all star, Makoto Sawazaki. He jumped out to a quick lead in the individual standings and led much of the way through December. In November Maehara of Mahjong Flight Club briefly managed to wrest the individual standings lead from Sawazaki. To take back the lead in true beat down style, he played a barnburner of game and did it in a game against Maehara, effecting an even bigger swing on the leader board. If you have a way to watch the game, I highly recommend checking out this game on the 14th of November.
If a game of mahjong could ever be compared to an all out brawl, this would be a good candidate. In addition to the current leaderboard one and two, you had another perennial heavy hitter in Yummi Uotani and another M-League newcomer, Kanako Maruyama making at the time good showings in the standings at 10th and 11th respectively. In the east round, Sawazaki did his thing with this crazy hand which I would argue was perhaps even more boss than the yakuman later in the game.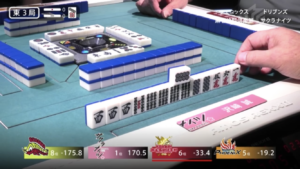 And you see why Sawazaki is such a formidable opponent. Of course, he usually makes the "right" play putting together a hand with big points and when he reaches, it's more often than not going to be with a  two-sided wait with a high probability of hitting. Usually a tanki wait would be an outside or letter tile. But then this! You see of course why he did what he did here: he'd just kanned the 6s on the upper side of the 5s, and he'd thrown the 2s earlier so it's somewhat more likely that someone will throw the 5 (suji, or piano keys, depending on your lingo) when they run out of safe tiles. Then despite all the careful trappy sneakiness, he just goes and draws it ippatsu anyway. Setokuma pointed out in the commentary that as crazy as a play as it was and as crazy as it was to have worked out for him, it was almost disappointing to have only gotten mangan out of it.
But wait, there's more. A couple hands later during Uotani's hand as dealer, she got to one away from ready (ishanten) with Kokushi, needing 1p and East! Maruyama got to ishanten with a tanyao, red dora hand passing on a couple pons that would have given her tenpai hoping to reach and make it something bigger. Then Maehara made an interesting 4s chi with this hand: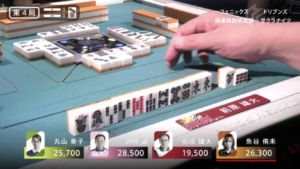 I imagine he correctly read Maruyama and Uotani as not quite ready yet and hoped to slow the action. So when he drew 2s later, instead of dropping the pinzu and pushing for a flush, he threw the 5s for a no yaku tenpai. Setokuma was pretty entertained (chuffed, Gemma might say?) by the picture of Maehara chiing here with his two Easts and an East already on the table while another player is obviously going for Kokushi. Here finally Maruyama chied when it left her with with a relatively good 5-8 wait in souzu and the commentators started going a little crazy with the action going on in the hand. Uotani is no goof, when she's pushing with a hand like she obviously was, something is afoot. And yet not only is one player pushing with a 2000 point hand, another is pushing with a 0 point hand! A couple draws later she drew Maruyama's winning 8s and instead of throwing to lose, put it in her hand for the moment. Then another couple draws later, Maruyama drew 1p and couldn't bring herself to risk throwing into Uotani's possible Kokushi and she started folding! 
OK ok, with all my breathless buildup you must be thinking that Uotani won a yakuman here and that would be reasonable, but too easy an ending. That it ended with only Maehara tenpai totally misses the point. What was so amazing about this hand was the constant feint, punch, counter punch, feint, punch that went on throughout it. It's another example of top level players making world class moves. And it's also another place where I'm reminded of how many world class plays may be forgotten because they were just another hand in a regular season game that didn't end in yakuman.
It's almost anticlimax now to bring up Sawazaki's yakuman. Actually the hand before it was the next hand after Uotani's missed Kokushi and it was another punch (Maehara reach), counter punch (Maruyama Pon-tenpai), and then weird punches coming from the outside (Sawazaki and Uotani with no yaku chis) that ended with Maehara drawing the last dora and throwing to Maruyama and putting her in the lead. It seemed almost unfair that Maruyama's valiant fight against these heavyweights was undone the next hand by being dealer when Sawazaki drew Suanko. Man it's a gut punch to play tight and then still have to hand out 16000 points.
At first I'd thought I could just sum up the season in one article but I am a long winded person sitting at home with little to do these days. So I decided to split it up into the two big stories of the season for me. This was an example of how Sawazaki dominated early on but speaking of Uotani, she's the other big story this season. While it was all Sawazaki in the first half, it was all her in the second. Let's take a look at her season next. Maybe there'll be a yakuman in there too.