Jenn readies for YukanFuji playoffs

I've been in a bit of a coaching quandary over how to tell our Yokan Fuji heroines to play Mahjong when my own game is in a such a constant state of flux. At least for Gemma and Mio, our playing styles are pretty different. When a result turns out sub optimally it's not hard for me to find places where I would have played differently. I tend to attack more and they play more conservatively, so I'm often pointing out times that I think they could have played more offensively. I'm not sure why, but Jenn and I play much more similarly. I'm guessing a large part of the reason is that we studied with the same legendary pros at the beginning of our careers in Renmei so it follows that our styles would have been shaped similarly and the influences remain. What it also means, though, is that at the end of the game when I need to give advice on how to play better, I'm often at a loss on advice for Jenn. I generally have to admit, that's pretty much what I'd have done with those tiles too. I'd probably have finished with that result too.
One place I could say I'd have played differently (at least from the safety of my perch behind her and not in the thick of the game itself) was in the third hand of the south round in the 1st game. After 8 draws she had this hand:
五五六七七①①⑥⑧4588
Dora was 七. On the 7th draw, the 9 was konged and the new dora was 8! She had tsumogiried the previous 5 draws including two 7's in a row which at the time I thought a bit of a miss but now seemed prescient. Now we really want to win this hand, but what is the best way to go about that? What should we pon on the 8th draw when the first 8 is thrown? One school of thought, especially when the rules allow ippatsu and ura dora, is to keep the hand closed so that we can eventually reach and get the most points possible for the hand. That conforms to our basically attacking style in that we want to make sure that when we're on the attack, we get the most reward for the risk we're taking. Chiitoi is two away from ready and we still have possibilities putting runs or triples together for a normal hand, let's keep it tight.
Another way of thinking would be to Pon the 8 and cap our monster hand at haneman (drop the ①'s aiming for Tanyao and 5 dora). Jenn happened to be in last place at this point so she wasn't protecting a lead. My feeling in this situation was that Pon 8 was the better decision as an attacking move, and from another perspective, even as a defensive move. Dora Pon instantly makes the hand at least mangan from the other players' perspective and lets us take more control of the hand. With more than half the dora now in Jenn's hand, anyone else including the 8 thrower has probably one or at most two in their hand so there's a good chance they give up. It's still going to be hard to win this hand, especially as people tighten up, but it was going to be hard to win it anyway if we needed one of the last two 六 to win. Better to go on the offensive and try to slow the other players down. She hesitated for a moment, before drawing to ignore the Pon, and the hand ended uneventfully a few draws later.
Randomly, have a look at some of my notes. Frankly I myself am amazed any of it actually makes sense.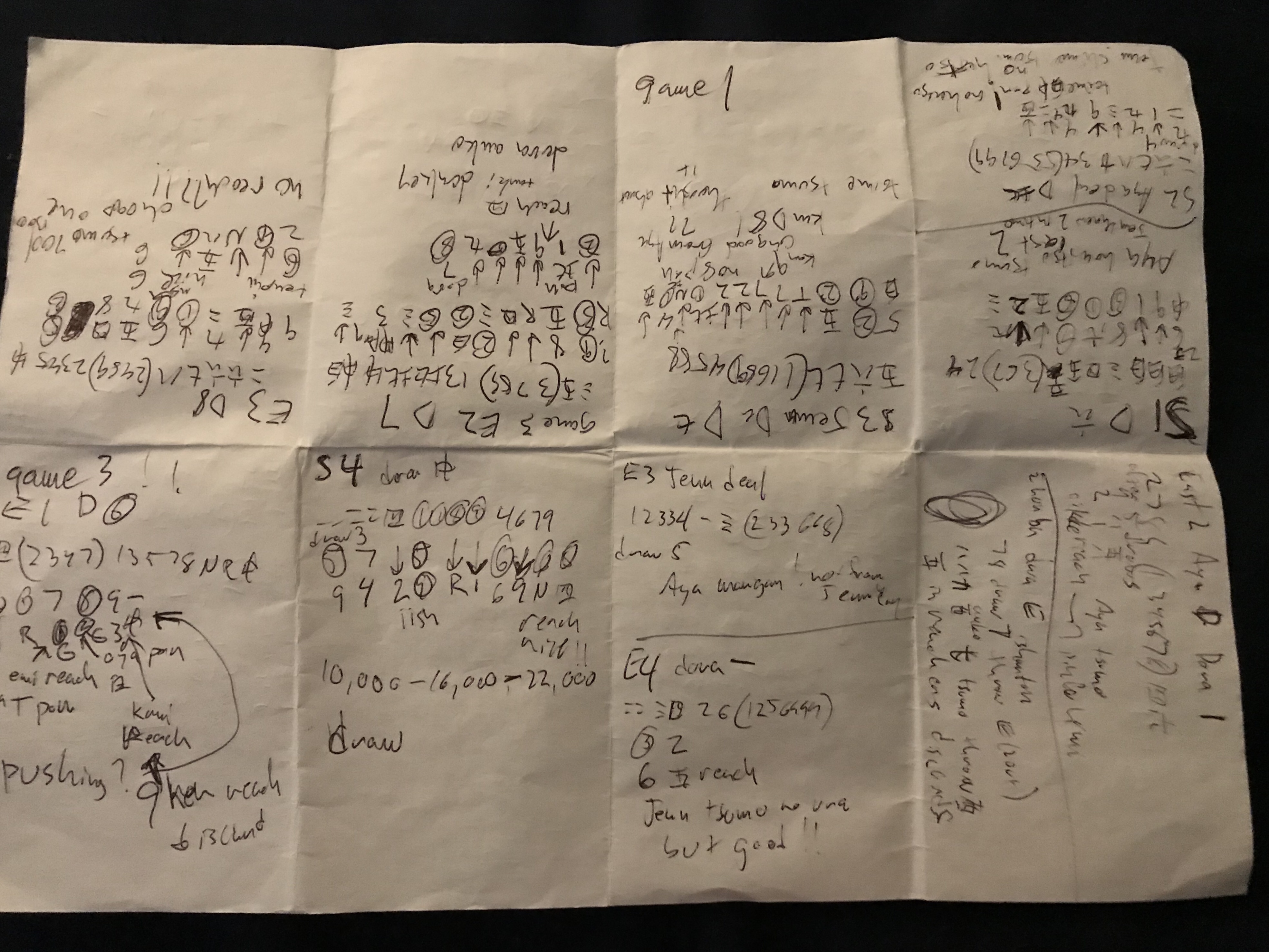 Jump to the end of the day, Jenn winning in style. Starting the last hand of the final game, Jenn was dealer and 4500 points behind first place. Her starting hand was two away from ready, she was able to reach on the third draw and then tsumo for a quick and easy 2000 from each player. Great! Now she's 3500 points into the lead! The next hand was looking good when on the 4th draw she already was one away from ready but then the last place player made an early reach herself. This is a situation I often screw up because I tend to feel like I need to take the win myself and keep pushing when I should fold. With only 4 discards before the reach there weren't a lot of clues about what kind of hand she was up against but for one thing, there were no letter tiles in there. When Jenn drew the first Green Dragon she didn't hesitate to simply fold the hand. Being the dealer put her in a somewhat precarious position here because she'd have to pay twice what the second place player paid if they got drawn out on. With a 3500 point lead that meant that she could lose up to a haneman tsumo and still win. Sure enough, the reacher drew her winner, a letter tile (though not the green dragon), with chiitoi and two dora. We all held our breath as she flipped over the ura dora but to at least two of our reliefs, she didn't hit it and Jenn retained her top placing.
Not every game has to be won with a game ending home run. Sometimes you just have to let someone else win the game for you. Jenn deftly got out of the way to give up a few points in the smaller battle, while still winning the first place bonus and the war.
Her performance leaves ReachMahjong.com just barely above last place in their group of 4, and needing a few moonshots to get the team into first and the postseason. But in the individual rankings, it puts Jenn 9th out of the 96 players in the league this season, all but sealing her a spot in the playoffs (https://www.babylon.company/blank-1). Jenn will probably only play one more game in the regular season to seal her individual fate and then it will be up to Mio and Gemma to turn around their and the team's fortunes.
Time for me crank it up as coach!