Improving your Mahjong: Beginners Level 1

On the JPML site there are some interesting articles on improving your Mahjong. Unfortunately they're all in Japanese. We'll try to bring them to you in the beautiful (?!) English language!

Improving your Mahjong: Beginner Level – 1
Taking Your Tiles
Once you've taken your tiles, what do you do first?
-Check that you don't have too many or two few tiles
If you're North, it's not uncommon to forget to take your final tile. If you're South, you might forget your first draw.
To prevent this, take three tiles in each hand and lift them above the rest of your tiles like in the picture below.
If it looks like the picture above with one tile extra in the row below, you have the right number of tiles as long as you're not dealer and you aren't waiting to discard.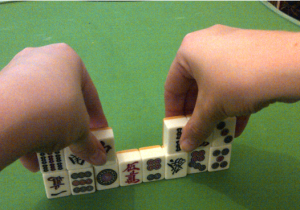 If you're dealer you should have taken an extra tile at the initial draw and it should look like the picture above with two tiles extra in the row below.
This is also useful when you have a kan (kong/quad/four of a kind). You need to make sure that you take an extra tile. Otherwise you will be short.
Until you're more familiar with Mahjong, it's always good to check the number of tiles before discarding.
-Next you should check the dora (lucky tile)
If you just discard the least useful looking tile, you could find yourself discarding a dora without realizing.
It is also good to get into the habit of checking it regularly. You don't want to lose the chance of an even better hand because you discarded dora too readily.
-Finally, you should predict what your final hand will be
Could it be sanshoku (three colour run) or itsu (flush)?
Maybe you want to call for tiles from others' discards or maybe you want to keep your hand closed. Perhaps you want to go for reach? You need to get used to asking yourself these question and forming a strategy for building your hand.
If you've already decided your best chance for hand points is to stay closed and go for reach, you're unlikely to want to react to others' discards.
Original Author: Azuma Saori URL: http://www.ma-jan.or.jp/jan-up/class_1/01.php
Translated and adapted from original Japanese. All rights remain with the JPML and author.