Hinata notches her first win, Sawazaki gets a little piggy

Jenn and I had a little shoot with Takki yesterday so I suggested we hit happy hour afterward but he protested he had M-league in the evening. I'm not sure what the connection is but I tuned in anyway to see what all the fuss was about.
Sawazaki is currently on top of the individual player's leaderboard so it was no surprise to find him absolutely crushing Takki and Uotani. He had pushed them both below 0 while accumulating more 65000 points. Hinata was in a respectable but still distant second with around 45000.
In Sawazaki's turn as dealer, Takki had gotten to ready with a South-6p wait. He was the south seat so it was a double south for him, but without a reach he could only win in the 6p if he drew it. After a few rounds of waiting quietly he tsumogiri reached which is also a little suspicious. Sawazaki felt it worth ignoring and plugged right ahead with his own reach even after Uotani had followed on with her own reach! He eventually drew Takki's South for an 8000 point gift into positive territory and the wind at his back for his final turn as dealer.
Takki assured his yaku this time with Sananko and a White dragon waiting for 6-9m. Only one away from a possible Suanko he didn't reach and with a red 5m early in his discards it was a good wait. Once again Sawazaki drew Takki's winner 6m and at least according to Tsuchida's commentating, probably reasoned it wouldn't be a big loss if it happened to hit. WRONG! Another 9600 points and now Hinata was actually in the lead by 600 points.
Takki again put together a small monster with a red dragon and red and normal dora, this time waiting for 3-6m. Hinata had ponned her seat wind and was obviously going for the kill so when Sawazaki drew a dangerous 6p he chose a 6m from his hand that was also in her discards. Another 8000 points! With Takki on a 27,000 point streak all from Sawazaki, he was now within striking distance of 2nd place and maybe even first! Fate seemed with him when he got to one away from ready with 3 Dora!
Unfortunately a well timed white dragon pon (for which Tsuchida gave Sawazaki kudos because he made it possible by discarding it), meant that the last Dora 9p went to Sawazaki instead of Takki for tenpai! The 3m he got instead seemed helpful but his 1-4m all went elsewhere. Sawazaki was eventually able to "save" second by throwing 5200 to Uotani to end the game and give Hinata her first win as an M-League player.
Sawazaki actually had the final session our study league today and I managed to make the final table. First place had managed to build up a 17,000 point lead by the last hand, but I did at least create a possible dream win even after my Sanshoku hopes were dashed when all the 2p came out and then the 5s was konged.
I got to tenpai with one draw to go and the Kong making me Haitei. With a previous reach stick on the table mangan tsumo was just enough to push me over the top but I drew a 7m instead and it all ended in a big fizzle.
I had been looking forward to confronting Sawazaki about HIS big fizzle all night and finally got my chance at our post league dinner time. I asked if for that first mangan he thought Takki's hand was weak because he hadn't reached right away and he said not at all. In fact, with so many points he felt it was his job, (his duty! In fact) to beat up on players with fewer points. I'm a big fan of mixing poker and mahjong strategies, but I'm not entirely sure this one crosses over so well. It sure didn't pay off well this time. He also alluded to some other (more sinister?) reasons for that play but I may have to wait a few more hiballs into dinner to get that answer out of him.
The worst we could do was spike his drink with the little ceramic pig that kept decorating various dishes at that restaurant. Ever unflappable, he didn't even seem to notice until we had to point it out to get a rise out of him.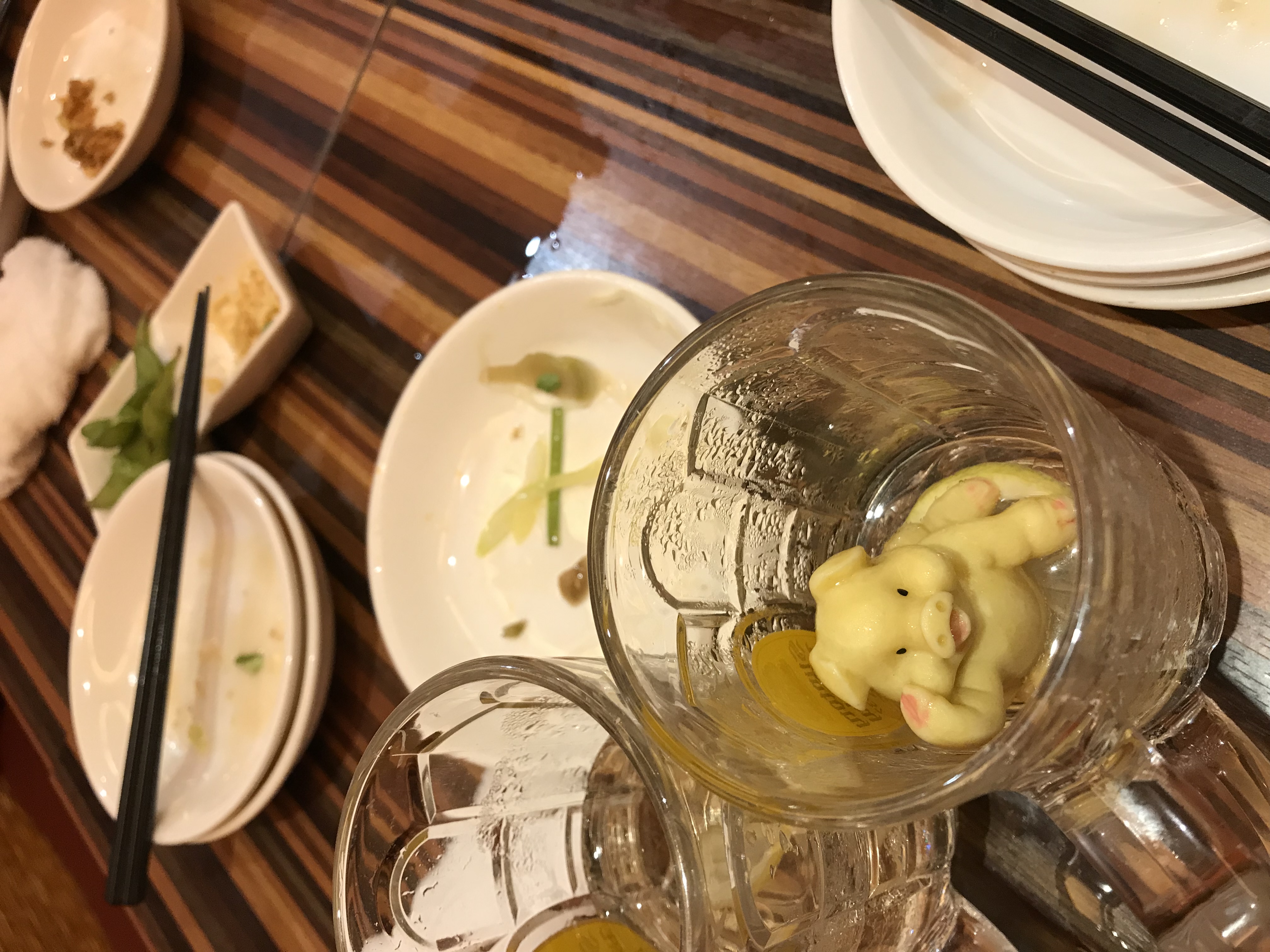 It was a rare stumble for Sawazaki the night before, but he still reigns over M-League individually with ExfurinKazan and Kadokawa next to each other in 2nd and 3rd teamwise. Smell a little rivalry brewing here? Definitely tuning in for their next matchup!