Although I've posted it very late, a special thanks to Tom Mustonen for reporting on the event and Sylvain Malbec for his photo contribution.

The French Riichi Open was held on 18-20th of March on the venue Salle Rossini in Paris, only a kilometer from The Louvre. There were 64 players participating from six different countries. The tournament consisted of 8 han-chan sessions divided into two days, four sessions each.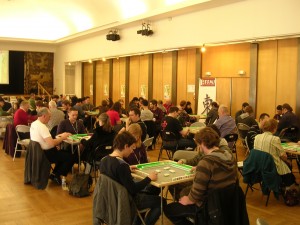 Russian players really surprised the field and their three players placed 1st, 4th and 8th. As commonly occurs in a European tournament, the Dutch found themselves on the top 10 and around the score range. The Finnish team scored nice 3rd place but other members didn't do that well. We can find two Danish players from the places 12th and 34th. Since there was no Gemma Collinge around to boost the British morale, the first British player on the list was 29th. Of course most of the players were French and the best french player was Nicolas Poilleux who finished second in the tournament.

My overall thoughts of the tournament is that the French still have long way to go as players, but this was an excellent start and a great first French Riichi tournament, and I hope they decide to organize such an event next year also.

The French contingent seems to like riichi so much, 14 players have registered to the Cherry Blossom tournament held in Nijmegen in the Netherlands!

There were prizes for the best three players, and also for the best three local French players.


Top Three Players
1st: Sergey Dedikov – 134500
2nd: Nicolas Poilleux – 113700
3rd: Tom Mustonen – 109900
Top Finishing French Players
1st: Nicolas Poilleux
2nd: Pierre-Cyril Kutukdjian
3rd: Jean-Marc Dedieu