May 21st, 2011
by admin
We continue this week with xKime's translation of Puyo's blogs. We also have professional input from JPML's Garthe Nelson, adding to the depth of the conversation. Hopefully some of these issues will bring some good conversation to the forums as well.
"The Yaku (HP) of Reach Mahjong"

From: http://blog.jpmahjong.net/read.php/518.htm

(Attention, reader: these series of articles are about Yaku (HP) and their characteristics, it is assumed that the reader already knows the Yaku (HP) of reach mahjong. If you don't know them learn them first)

Reach mahjong has about 37 types of Yaku (HP) (not including dora), the frequence in which they occur and the tiles they require are not the same. Just like a "Heaven Blessing" hand, all you need is good luck and no skill. -laughs-

Beginners tend to think it's too troublesome to remember all Yaku (HP), however just learning the basic most recurrent ones will already leave a good effect. Below, there is a list of Yaku (HP) in reach mahjong with an occurrence rate of above 2%

(Occurrence rate in parenthesis and you can find the original stats here http://www2.odn.ne.jp/~cbm15900/html/y99.html )

1 Reach (45.1%)
2 Value Tiles (40%)
3 All Simples (21.4%)
4 Peace (19.9%)
5 Concealed Self Draw (17.6%)
6 One Shot (ippatsu/First-turn Win) (10.2%)
7 Half Flush (6.31%)
8 Double-Run (4.75%)
9 All Pungs (3.92%)
10 Three Colored Runs (3.46%)
11 Seven Pairs (2.52%)
.
.
.
14 Full Flush(0.94%)
…
19 Self-Draw after a kong (quad) (0.28%)
…
27 Thirteen Orphans (0.043%)
…
37 Heaven Blessing (about 330 thousandths)

Among all Yaku (HP), only one third is above an occurrence rate of 2% just learning these, you'll be able to endure a lot of games. You don't need to invest time learning the other rarer ones.

The above Yaku (HP) can be further divided in categories.

A. Reach, Concealed Self Draw, Ippatsu (first turn win): All this hand needs is to get to a concealed a ready, the requirement is tile efficiency, we've talked about it in general terms already.

B. Peace, Double-Runs: They both need to be concealed, therefore tile efficiency is also required. However, since you can't use your opponent's tiles for these two Yaku (HP), it's a little hard.

C. All Simples: The required element to attack calling tiles, we'll spend a few pages introducing this one later on.

D. Half Flush: The Yaku (HP) most aimed for by beginners, however since many people are confused about it, we'll have a detailed explanation about it next time.

E. All Pungs, Seven Pairs: Both Yaku (HP) are similar, beginners usually don't know whether to go for seven pairs or all pungs. The data belows comes from 6 months of tenhou, statistics on the occurrence of all pungs:
General room: 4.43%
Dan room: 3.09%
Higher Dan room: 2.07%
Phoenix room: 1.48%
The better the players are, the less they rely on all pungs. What is the reason after all? We will also be explaining this one in detail.

F. Value Tiles: An extremely high occurrence rate, but compared to Half Flush, there is less space for confusion.

G. Three Colored Runs: A very frequent high scoring Yaku (HP).

From this article onwards, we will be focusing on these Yaku (HP).
———————————————————————————————-
Garthe's Comments:
When I tell people here I'm a professional mahjong player, the inevitable guffaws of disbelief are often followed by whatever tidbits of mahjong jargon they've managed to acquire from somewhere. "Ron! Chi! Tsumo!" just to show that they know as much about mahjong as me.

Another favorite is "Mentanpin!" and there's a reason that it's half of what people who know 2 words of mahjong know.

Looking at the list again look at which of the hands are most frequent and still not mutually exclusive: Reach (men from menzenreach in Japanese), Simples (tan from tanyao), Peace (pin from pinfu).

That's three hand points blam! And you're well on way to getting an 8000 point hand!

While you're still learning, making the base of your game mentanpin without worrying too much about the other hand points will still net you some pretty good results.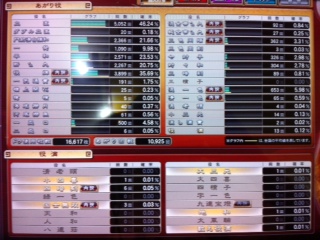 One difference between my stats and the ones listed there interested me. My rate of Concealed Self Draw is 21%, considerably higher than the rate from Tenhou. I don't want to say I must be really good, but I'm afraid I have to. And it's another hand point that fits nicely with the aforementioned mentanpin combo. Making it another reason to make the effort to keep your hand concealed.

So in the beginning while it's a good idea not to focus too much attention in the hands with less than 2% frequency, you can narrow it down even further to those around 20% and above and still play a pretty successful game.
Posted in Columns