Tri Nitro Tiles (TNT)
Located in Paris, France
Established November, 2010
Run by Quentin Thomas
11 members as of January, 2011

Last year 4 fiends in France discovered mahjong. They started with Chinese rules, but it wasn't long before they turned their attention to Riichi. They are not the only riichi players in Paris, and that's why they have come together to create a community for Riichi players in the area. TNT is affiliates with the FFMJ (French Federation of Mahjong). TNT is the first strictly Riichi club in France.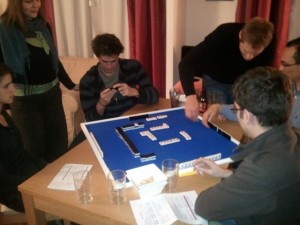 TNT uses EMA's RCR rule set and meets once or twice a week. This might sound like a lot, but the founding members are brothers. When the players can't meet to play live games they are playing on Ron2 or Tenhou.

The players of TNT learned about Riichi from manga. They've also been influenced by Japanese games like Shogi, Go and Western games like poker. However, after learning Riichi Mahjong, they were hooked!

You can meet players from TNT this year at the Eve'Riichi tournament in Paris (March, 2011), the European Riichi Tournament (March) and some FFMJ events (including the Paris Manga, Jap'anim). Be sure to check out their website and if you're in the area, join them for a game!